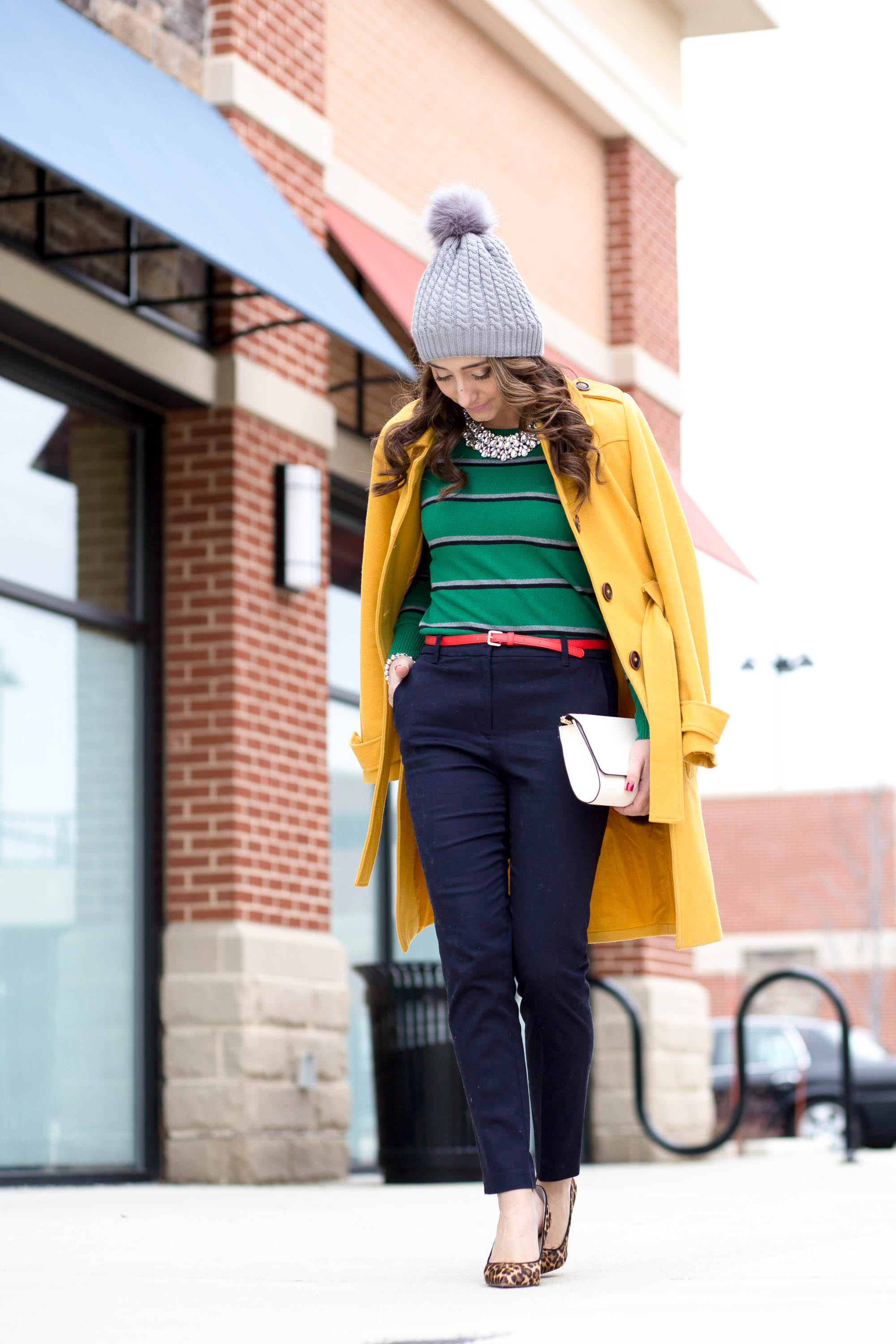 Happy Thursday from cloudy and rainy Maryland, lovely friends!
It may not feel like it yet, but spring 2017 is finally here! I'm patiently waiting for the warmer temperatures to finally get here, but in the meantime I'm actually enjoying being able to wear lighter layers to work. No more gloves or heavy coats for now, how awesome is that?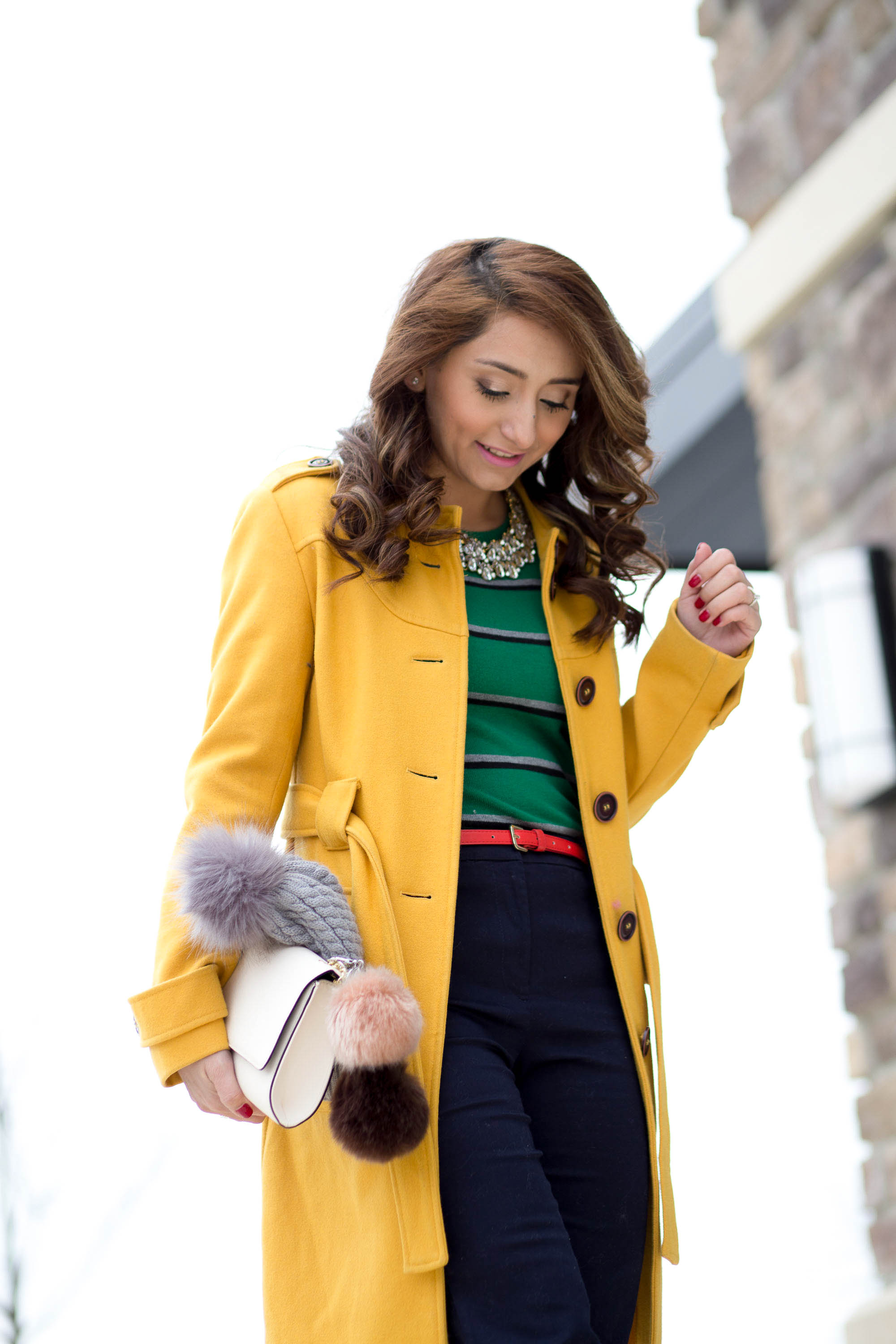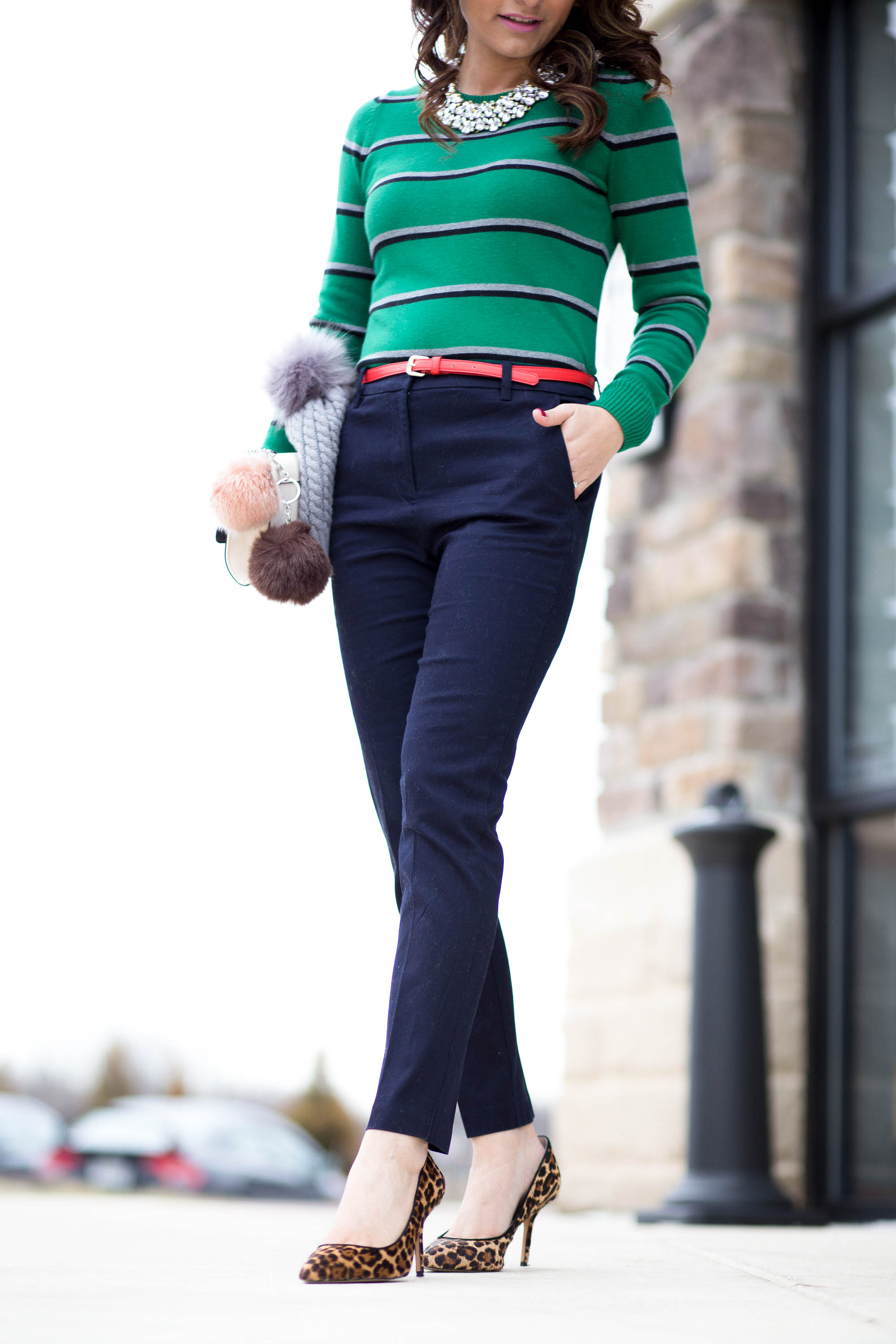 One thing I love about spring is all the colors Mother Nature gives us through trees and flowers. It's truly an inspiration! So I thought that on today's blog post I share with you all a fun, chic, and colorful spring inspired look. I'm also sharing with you all my 5 easy tips to putting together a color blocked outfit in case any of you would like to put together something similar. Hope you guys enjoy it!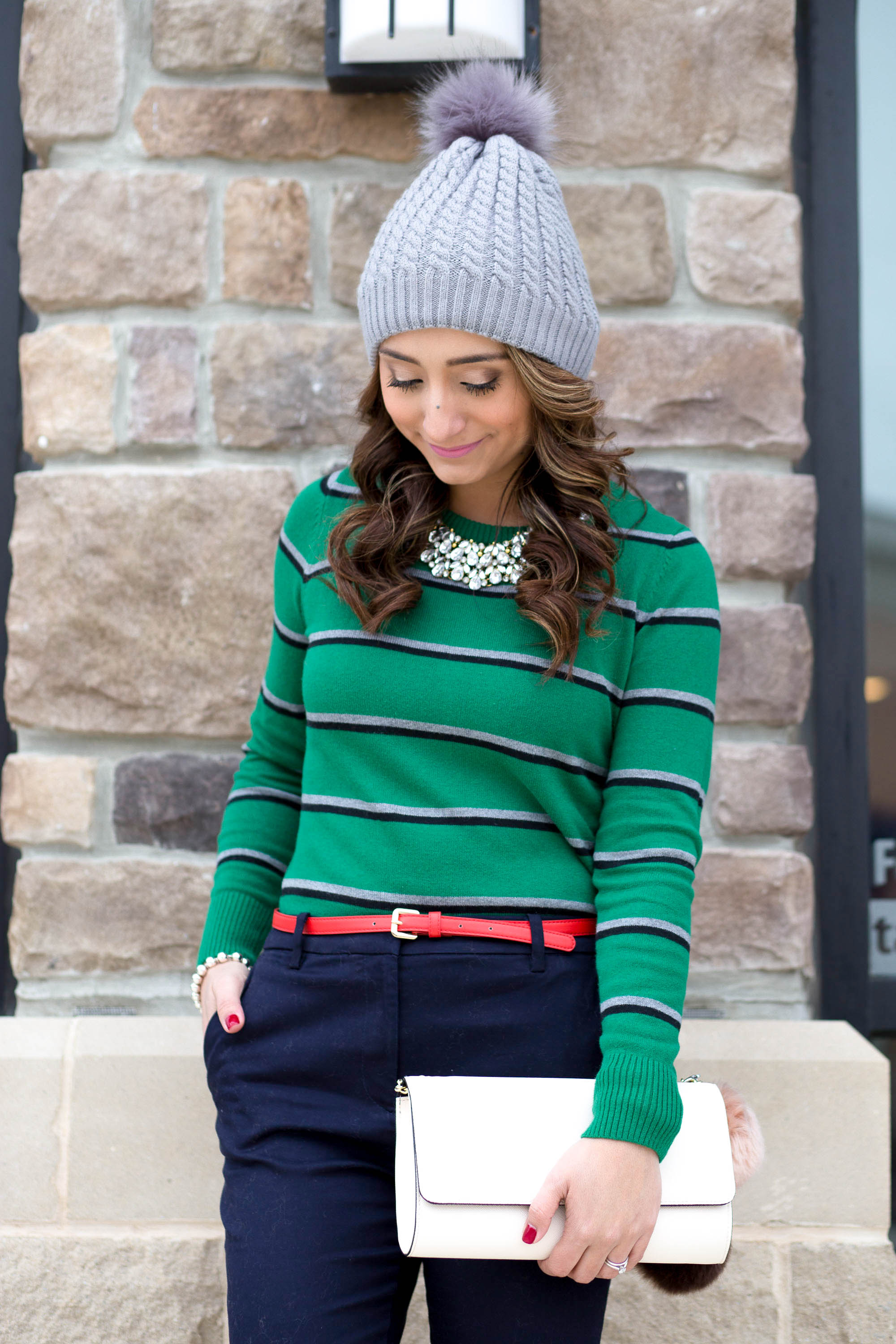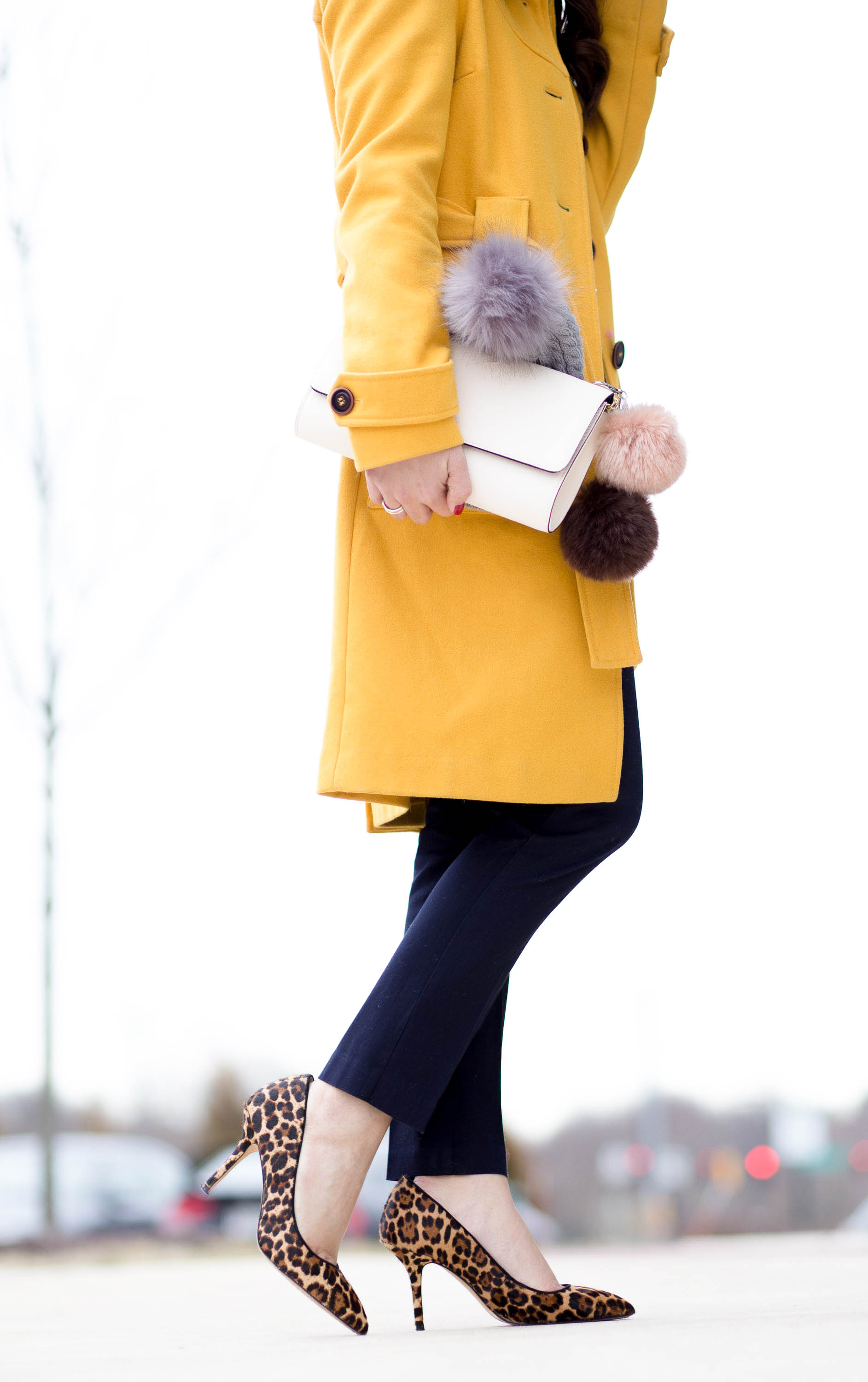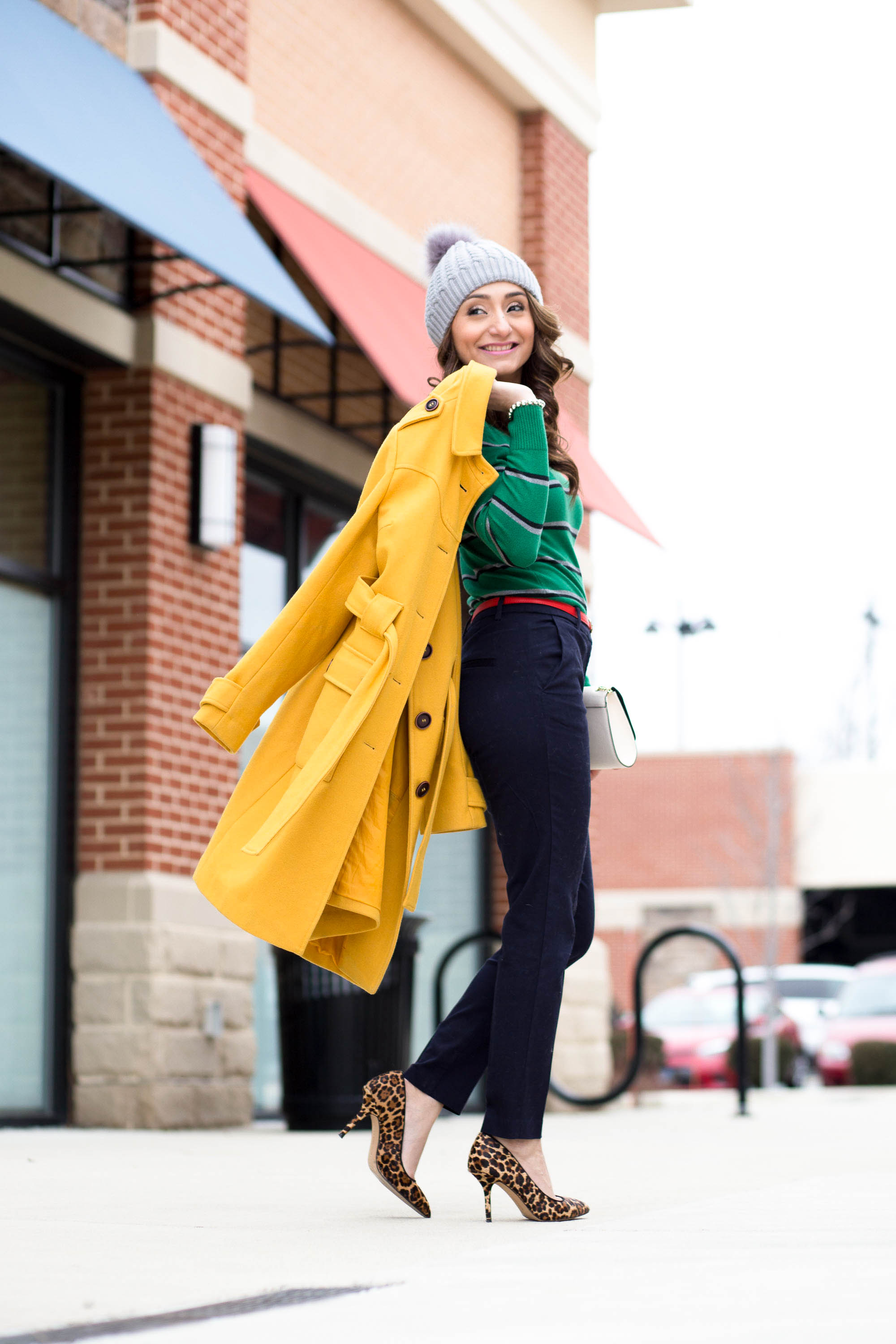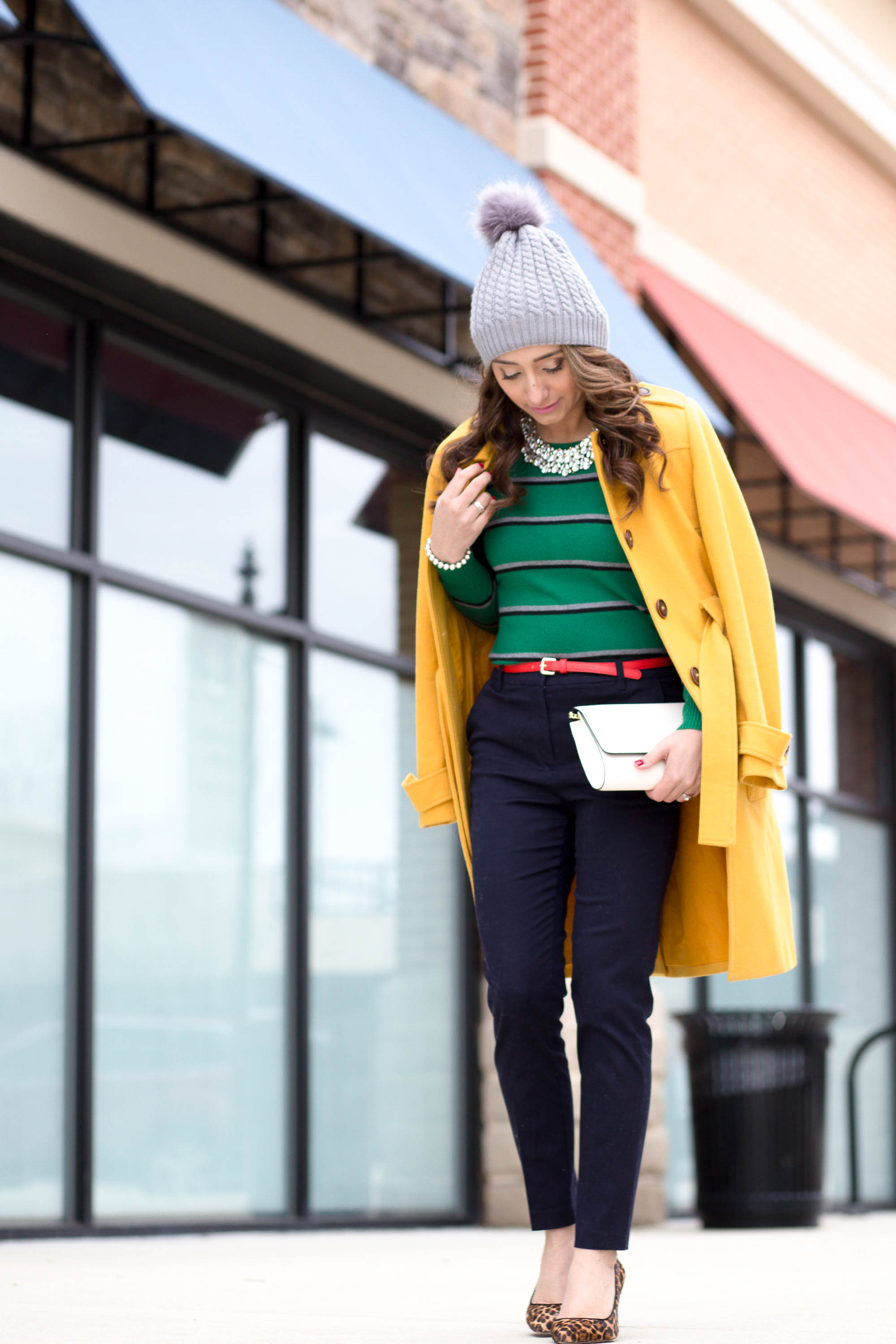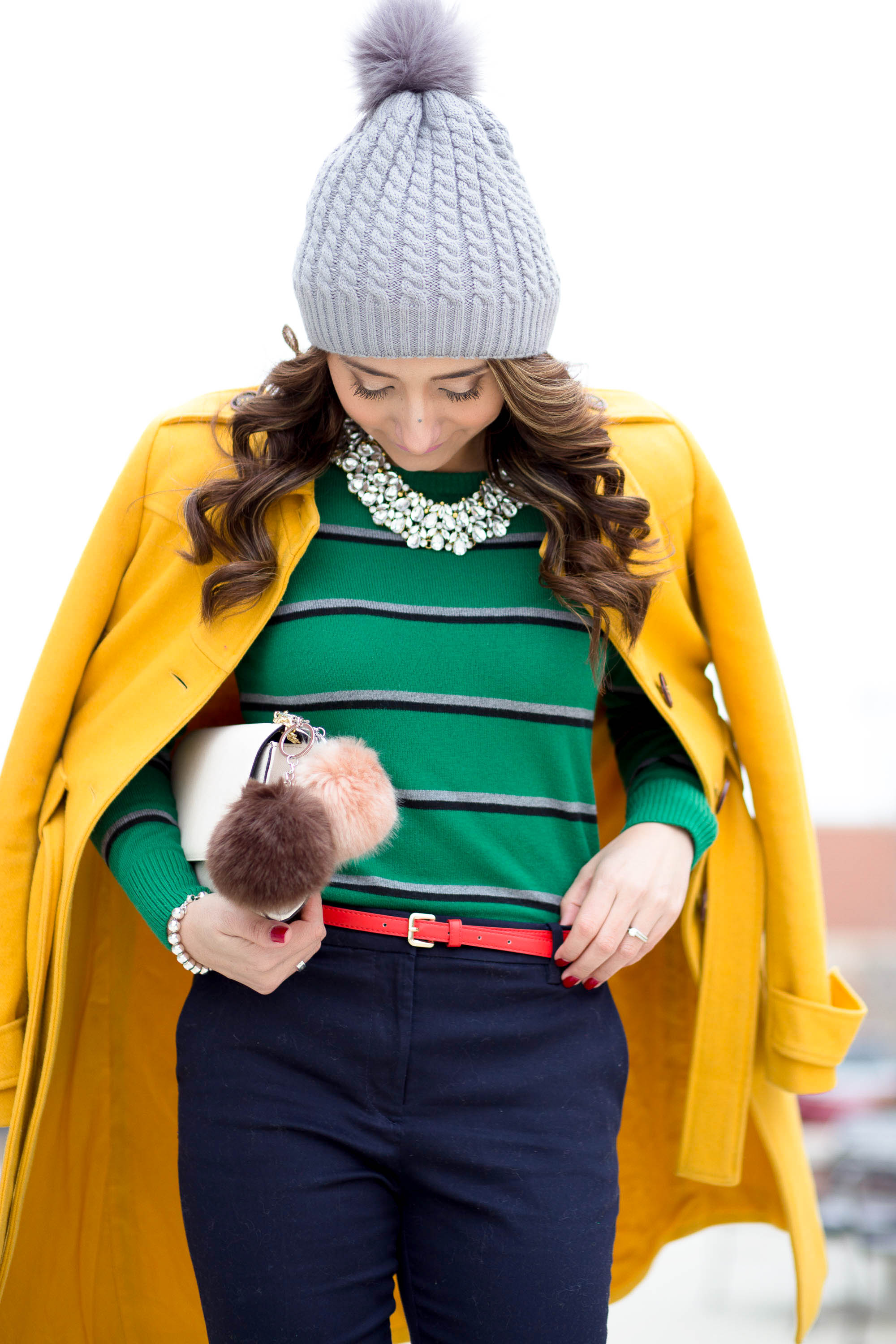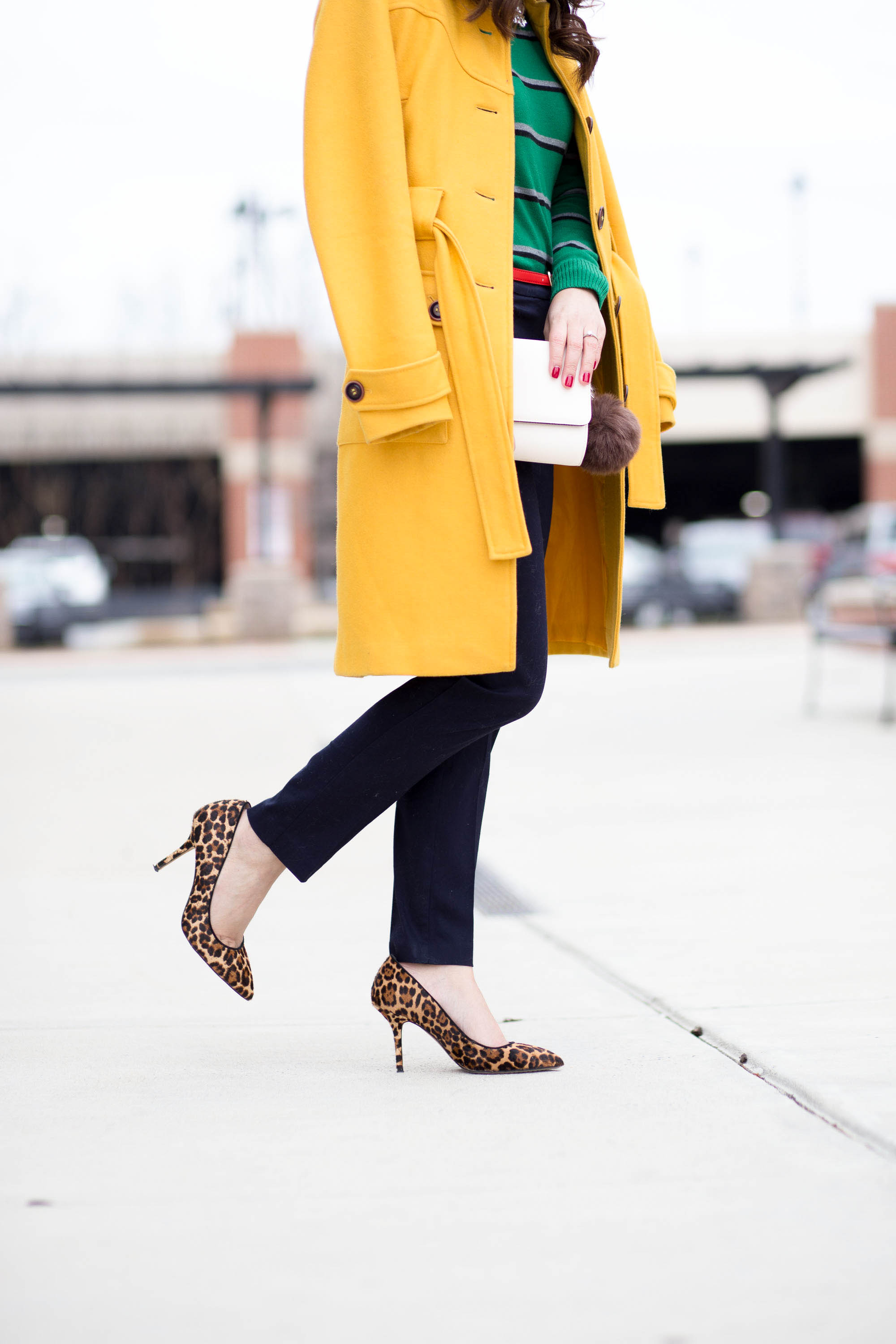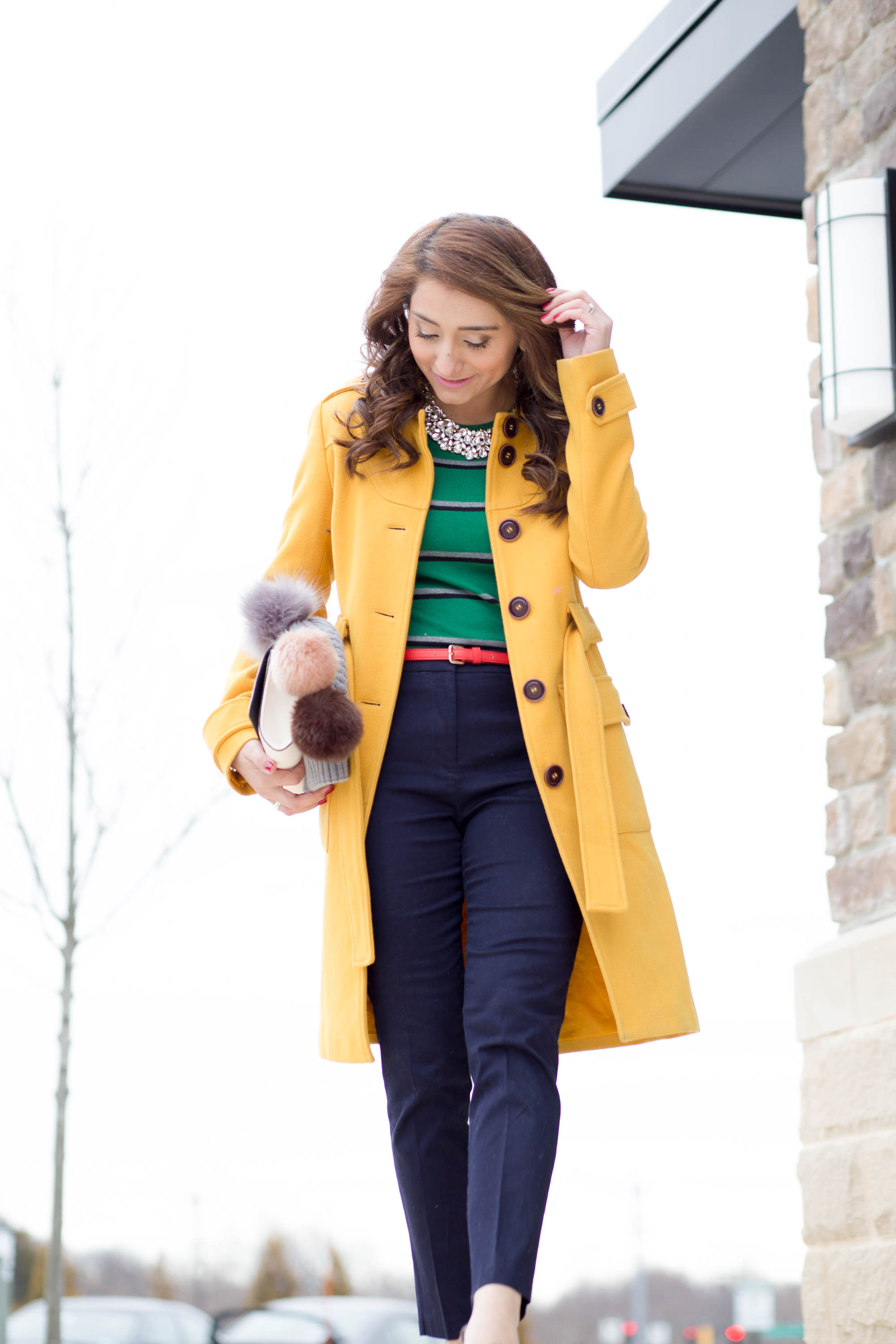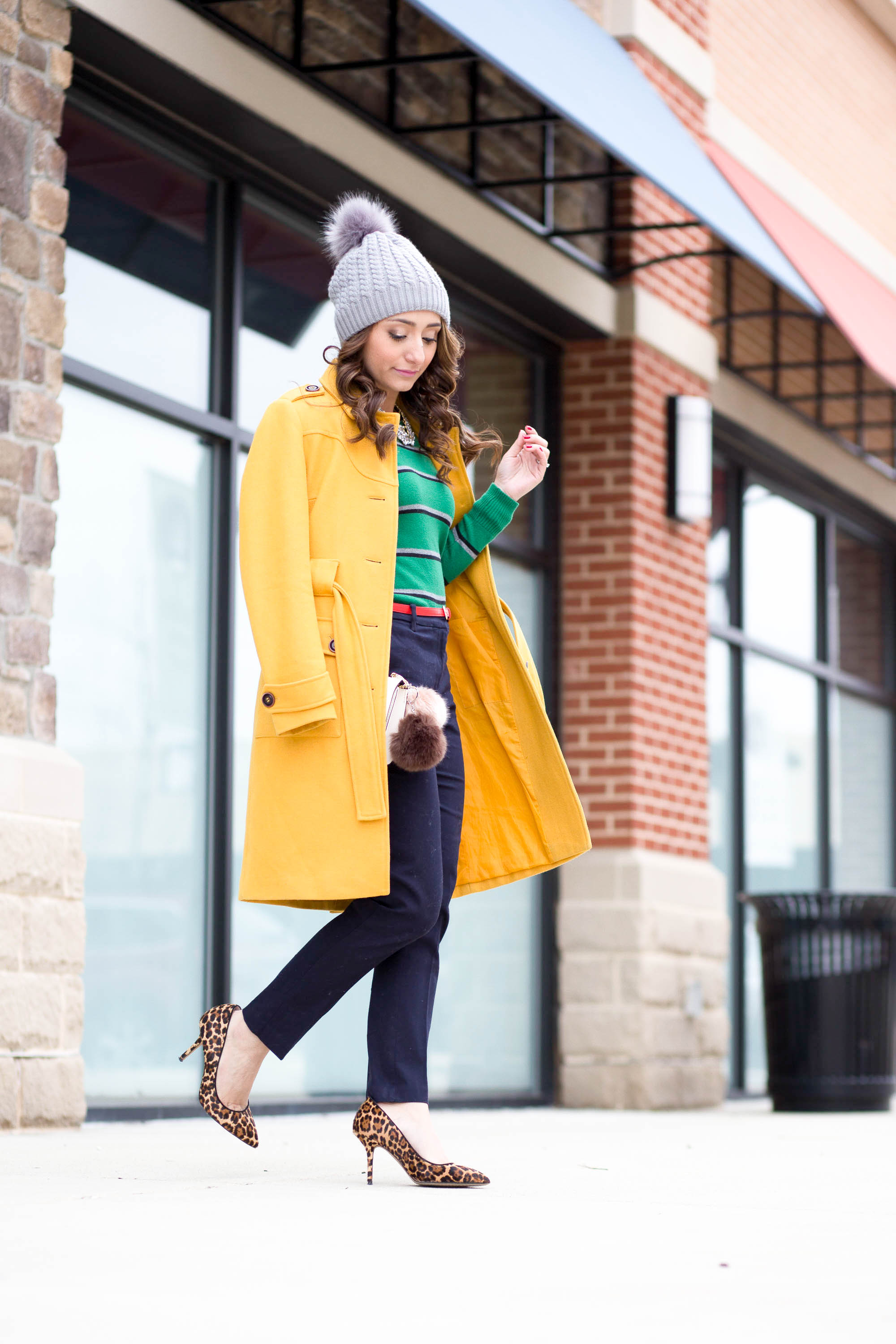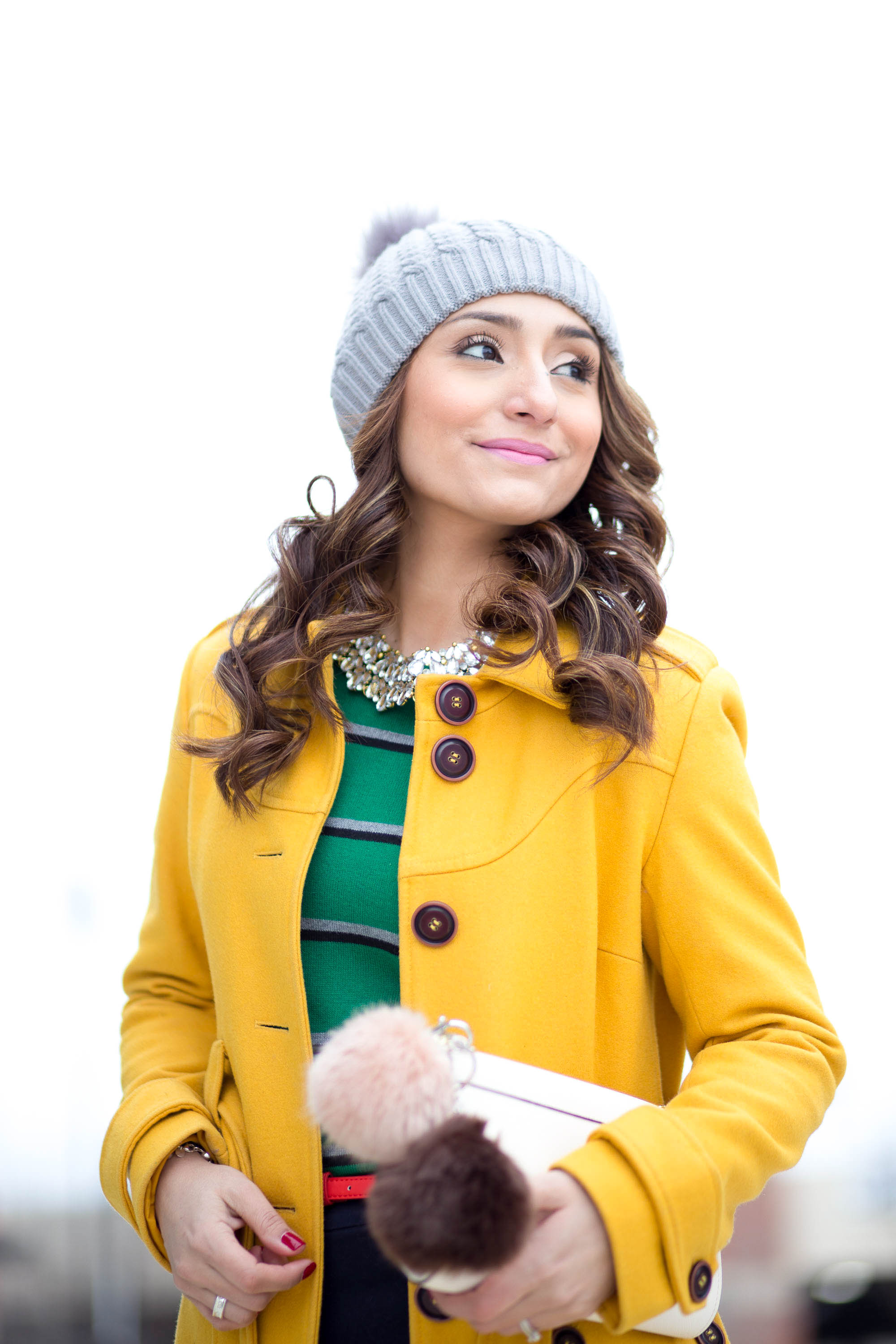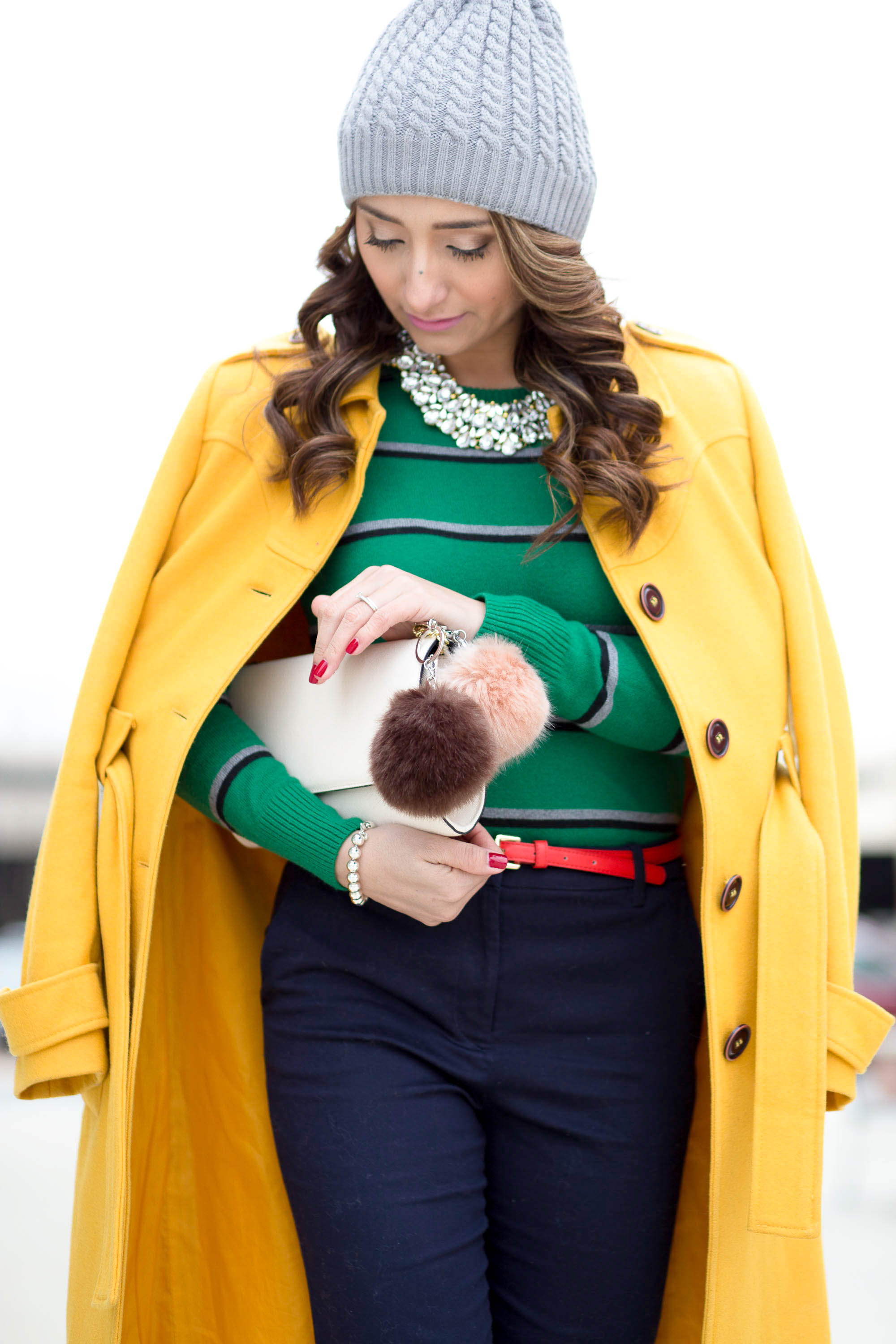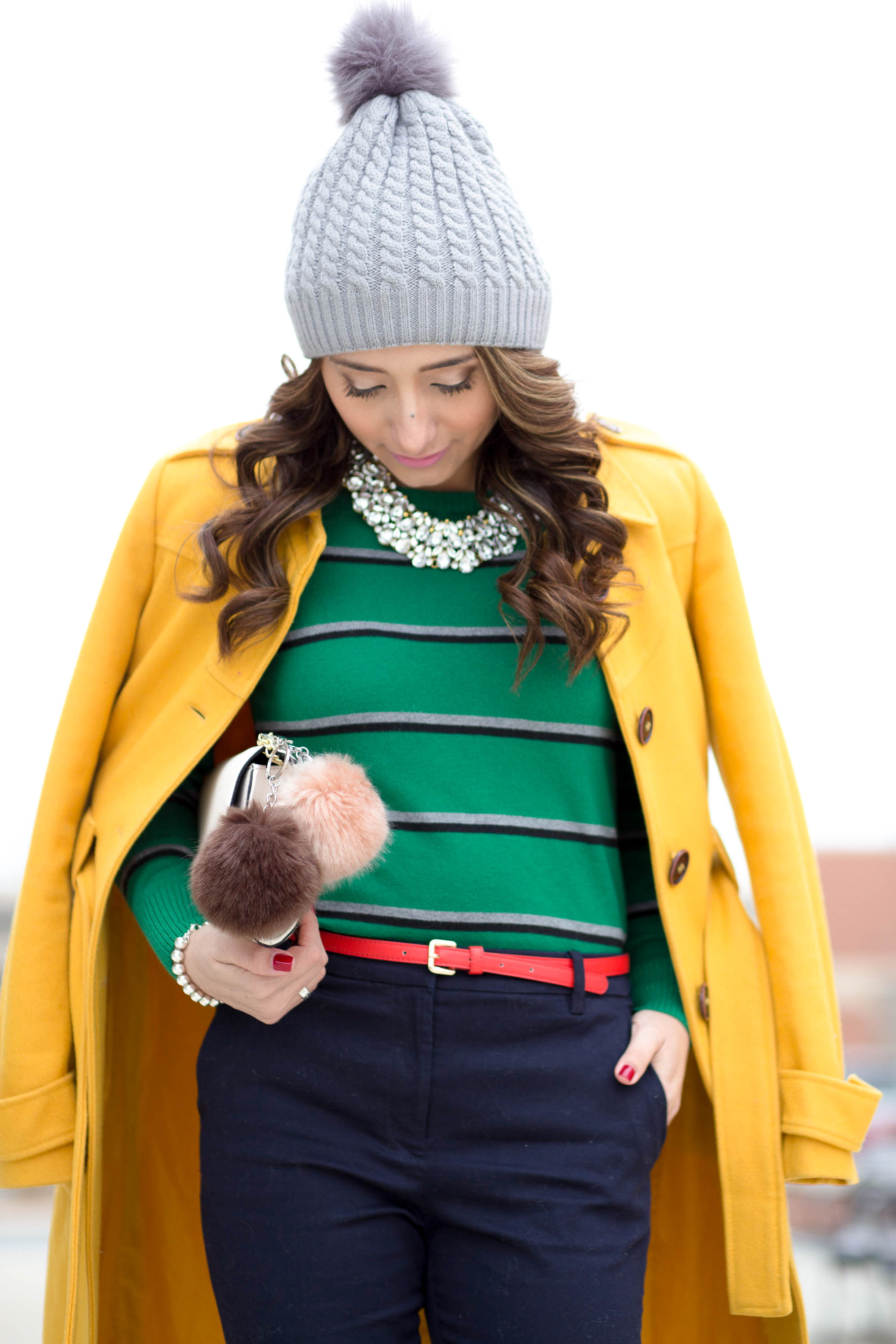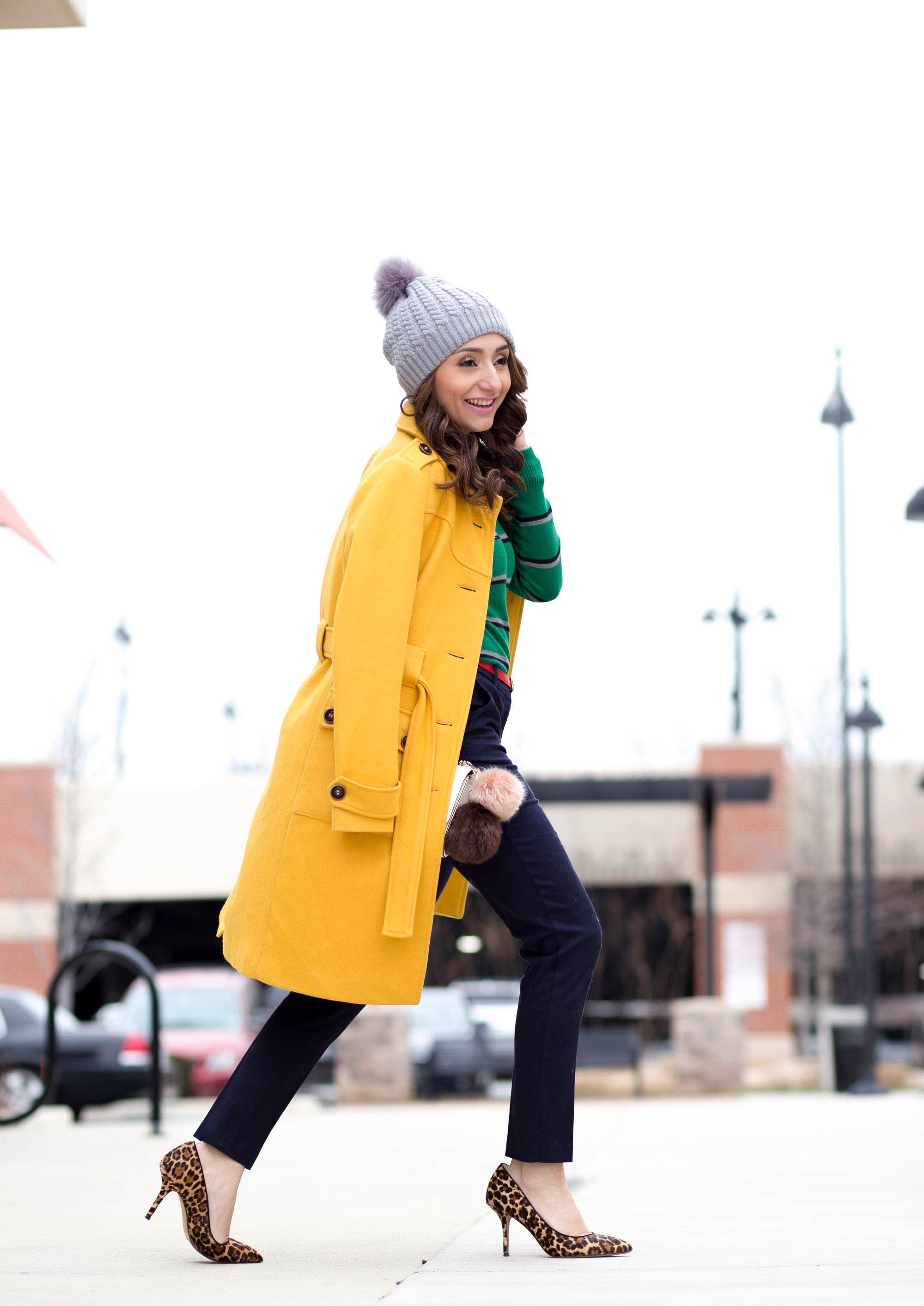 Sweater (old similar here, here) || Pants || Shoes (similar here) || Necklace || Coat || Beanie C/O
Photography by Jennifer Posada
Tip No. 1: Start with the basics
When it comes to color, the more the merrier right? Haha. Well, here's what I'll say to that: start with one color. Color blocking is so much easier when you start with a basic color and work from there. For this outfit, I actually started with my dark blue slacks. I really love these pants, and so I just knew that I wanted to work around them. This is a basic color, and in my experience it goes with any colors you wish to pair it with. Because dark blue can be such strong color, you want to pair it with a bright and happy color. This will make the outfit come to a whole different level.
Tip No. 2: Consider prints
Since prints come with awesome and creative color mixes, half of the job has been done for us already. When I purchased this striped crew neck sweater from Target, I remember loving how great green, dark blue, and gray mixed. It's definitely fair to say that, had it not been for this sweater, it would've been hard to see how great all these colors look. From here, assembling the rest of the outfit came rather easy. For today's blog post, I paired my sweater with these cool dark blue slacks but honestly, I could've used gray pants and/or a gray skirt if I wanted to. It's all about what you have in your closet. So if you'd like to recreate this exact look, definitely go based on what you already have.
Tip No. 3: Use a color wheel
Is it just me or does anyone else get flashbacks of middle school when looking at a color wheel? Haha. Don't worry, we don't need to know the history of color to learn how to color-block your outfits. Although if you really want to get into this topic, I will highly suggest to check out this Basic Color Theory article. Their piece on Some Formulas for Color Harmony does a fabulous job at explaining how to go about creating basic color combinations. In very simple terms, when using the color wheel there are two ways of creating a color scheme. One way is to choose a color and look at the straight opposite one. For example, blue and orange are directly opposite of each other on the wheel. The second way is to choose a color and look at those ones that are right next to each other. For example, dark green, green and yellow are all alongside each other on the wheel. Oh hey, what do you know?! Yeah, I may or may not have looked at the color wheel when choosing to bring along my yellow jacket.
Tip No. 4: Complete the look with accessories
 Accessories are always important, we all know that. What you want to focus on when doing an outfit like this one is to keep those accessories neutral. My necklace and my clutch are both neutral because I didn't want to have busy accessories that would compete against my outfit, you know? When choosing the shoes, I opted for leopard print because for some of us, leopard is actually neutral haha. The red belt complemented the leopard shoes, and once I put it together, I loved how it brought the whole outfit to a new level. I chose the gray beanie because of the gray stripes on my sweater. Keep in mind that in the end, it's all about being happy with your choices regardless if they're neutral or not.
Tip No. 5: Confidence is key
No matter what outfit you're wearing, confidence is key to making any outfit work. Having that said, its important to focus on looks that are flattering to you, your body, and your personality. If you've been following my Instagram and my blog for a little, you probably already know how much I love sweaters and slacks for the cooler seasons. Why you ask? Because it I truly believe that it complements my figure and most importantly, I feel so comfortable wearing this kind of outfit to work. If pants are not your thing, you can still try this combo with a sweater and a skirt or perhaps a dress, too. Again, focus on feeling good outfits first and then take it from there.
 See you all with a new outfit soon.
Xoxo
Flor